From ordering food to catching a ride, there's practically an app for everything. The number of mobile devices on Earth is growing exponentially while people are also becoming more tech-savvy with each passing day; it makes sense that apps have become such an integral part in our everyday lives!
As the popularity of apps continues to grow, so does the importance of app testing. App testing verifies that an app will function as intended and is free of any major bugs or glitches. Given the number of people who use apps, it's essential that they are tested thoroughly before release.
 When you're developing a mobile app, the last thing you want is for it to crash or have other usability issues when released to the public. That's why quality assurance, also known as QA, is so important in the app development process.
QA is the practice of testing an app or website to make sure it meets the requirements specified by the developers and users. This includes functionality, usability, performance, interoperability, and security.
In this article, we'll discuss mobile app testing and how you can ensure your app is of the highest quality before release.
Types of Mobile App Testing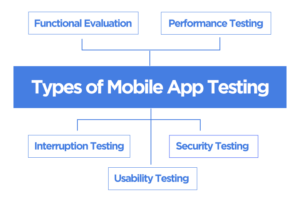 There are a few different types of mobile app testing that you should be aware of before you launch your app.
Functional Evaluation
Functional mobile app testing ensures that the app's features address the desired objectives. This type of testing focuses on the flow of the mobile app. When working on Functional testing services, it ensures that the mobile app's capabilities meet the set standards and are highly responsive.
Functionality testing also determines if a programme can be launched and installed successfully. Furthermore, it validates the convenience of sign-up and login, as well as the presentation of push notifications and the appropriate operation of text fields and buttons.
Performance Testing 
Performance testing checks that your app runs smoothly on all devices. This includes doing load tests to see how many users the app can handle at once, and stress tests to see how it responds under heavy load.
Interruption Testing
Interruption testing lets you test how the application works in an interrupted state before resuming the previous state. Some of the examples include, alarms, incoming phone calls, and low battery notifications from mobile phones. An app that runs in the background should usually resume to the previous state before interruption. 
Security Testing
Security Testing reveals vulnerabilities, threats, risks in an application and prevents malicious attacks. The objective of Security Tests is to recognize all potential loopholes and fragility of the software which might result in a loss of data, revenue, or reputation.
Usability Testing 
Finally, there's usability testing, which evaluates how users interact with the app. You'll want to watch users navigate through the app and look for any pain points or areas that could be improved.
Best Strategies for Testing Mobile Apps
So you've designed a mobile app, and now it's time for testing. Testing an app is crucial to ensure the end-user has a great experience. However, testing can be time-consuming and difficult if done manually- so how do you know what tests should take place? 
There are several factors that need consideration when deciding which features or aspects within your mobile application need some attention before launch day:
Multiple Device Testing 
Test on as many devices as possible, make sure both iOS & Android versions of these platforms (as well as resolutions/sizes).
Use Real-world Scenarios
Try to replicate the conditions your users will experience in the real world. For example, test your app in different locations with varied network conditions. 
Use Different User Types
Test your app with both new and experienced users, and with users of different ages and genders.
Pay Attention to Details
Make sure to test all features of your app, from basic functionality to more complex tasks.
Tools to use while testing Mobile Apps
While you're testing your app, it's important to use the right tools. This will help you get a better idea of how your app is performing and where it could use some improvement.
Here are a few of our favorites:
Screen Recording Tools
This will help you capture what's happening on your screen in real-time. This is perfect for troubleshooting errors or checking how users are interacting with your app.
User Analytics Tools
These will help you track user engagement and understand how people are using your app. This is essential for figuring out what works and what doesn't in order to improve your app's design and functionality.
A/B testing Tools
These allow you to test different elements of your app to see which ones work best. This is a great way to determine what changes need to be made in order to improve the user experience.
Need for Innovation & Automation while doing Mobile App Testing
It's no secret that the app market is booming, and shows no signs of slowing down. In order to keep up with the competition, businesses need to ensure that the apps they're releasing are of the highest quality. This is where mobile app testing comes in. 
Today, the market is flooded with mobile apps. This high competition has forced businesses to look for innovative ways to set themselves apart from the competition. Mobile app testing is one way to do this.
Reduced Time and Effort 
As the market becomes more competitive, the need for automation in mobile app testing also increases. Automation can help reduce the time and effort needed to test an app. It can also help testers cover more ground in a shorter amount of time.
This is why it is important for businesses to invest in both innovation and automation while doing mobile app testing. Doing so can help them stay ahead of the competition and create a successful app that users will love.
Reduce The Cost of App Development
Automating test cases and coordinating it to your CI/CR pipeline assists you with tracking down bugs in the beginning phase and in the long run saves costs in your development life cycle.
Ensures Proper App Functioning 
The primary goal of the QA process is to ensure that a solution performs flawlessly. Furthermore, QA professionals examine if users can effectively download an application to a variety of devices. They test an app on real devices to ensure that it produces a fully functional product.
Enhances Customer Loyalty
Customer satisfaction will increase if an app is easy to use and functions well. In this approach, analytics aid in reaching a larger audience and shaping the industry's excellent reputation.
Guarantees increased revenue
The testing method may necessitate early costs, but it aids in preventing difficulties and reconstructing a product at the end. It saves time, reduces total cost, and enables for a quick time-to-market. By collaborating with your testing professionals, you may expect greater ratings in the future.
App Deployment in Less Time
With the Agile development approach, automated testing helps to achieve speedy app development, which leads to excellent outcomes and better ROI. Automation testing shortens the app development life cycle, resulting in faster app launch.
Mobile App Testing made easy with Odiware
Odiware provides the best mobile app testing services that ensures your applications are market ready.
Odiware helps you test your apps on real devices, as well as use emulators for different devices. This means you can test your app on different operating systems and versions and different screen sizes.
Detailed test results and other artifacts are shared for review and analysis. This makes it easy to track any errors or problems with your app and fix them before launch.
If you're looking for a hassle-free way to test your mobile apps, Odiware provides you best mobile apps testing services. Contact Us to get the best services.
Conclusion:
Mobile app testing is a critical process that needs to be carried out prior to releasing an app to the public. By testing apps, you can catch potential problems and bugs that could affect how the app works. There are a variety of methods and tools that can be used for mobile app testing, so it's important to choose the right ones for your specific app. By using the right tools and methods, you can ensure that your app is thoroughly tested and ready for release.
User feedback is an important part of mobile app testing, and beta testers can provide valuable input. QA teams should also be prepared to address issues that arise during testing.